Free Fair Housing Webinars in November
Criminal History Screening In Compliance with the Fair Housing Act
Join us for a webinar on Nov 06, 2018 at 10:30 AM PST.
A review of HUD's April 4, 2016 Guidance on Application of Fair Housing Act Standards to the Use of Criminal Records by Providers of Housing and Real Estate-Related Transactions
Source of Income Discrimination and the Fair Housing Act
Join us for a webinar on Nov 19, 2018 at 10:30 AM PST.
Learn how source of income discrimination can violate the Fair Housing Act if it targets or has a disparate impact on Fair Housing Act protected classes.
The work that provided the basis for this presentation was supported by funding under a Grant from the US Department of Housing and Urban Development. Northwest Fair Housing Alliance is solely responsible for the content, which does not necessarily reflect the views of the Government.

After registering, you will receive a confirmation email containing information about joining the webinar.
Save the Date! 2019 Inland Northwest Fair Housing Conference
April 11, 2019, Spokane Convention Center
Registration opens 2/1/19 at https://2019inlandnwfairhousin...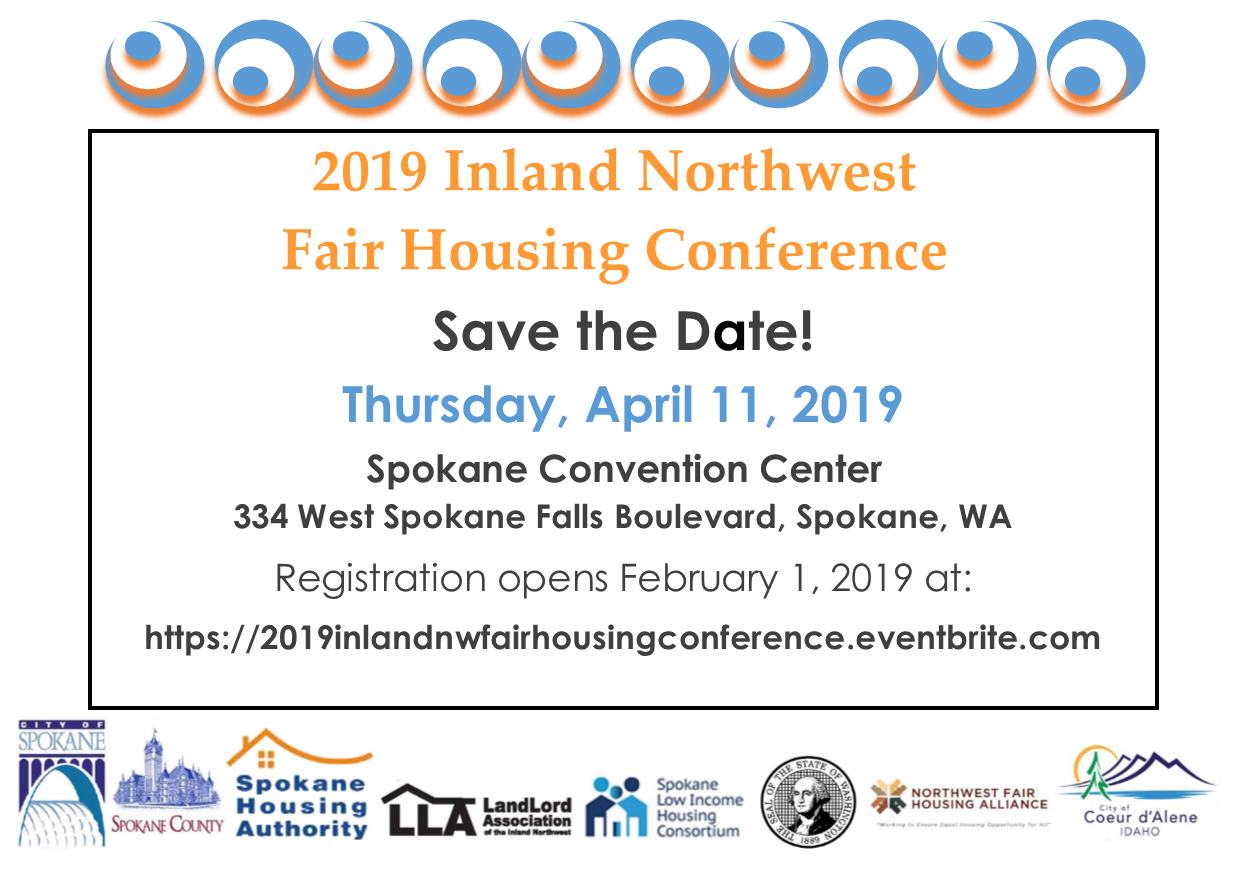 Request a Training
For more than 24 years Northwest Fair Housing Alliance has provided comprehensive fair housing training for housing providers throughout E. and Central WA. Our clients have included landlords, management companies, housing authorities, real estate brokers, attorneys, social service providers, government employees, housing developers and contractors, mortgage lenders, lending institutions, advertising media, and tenants. Everyone should all be aware of fair housing laws. Training can increase awareness, sensitivity and compliance. NWFHA staff are knowledgeable about fair housing issues in E. WA and can design a training program to meet your needs. We provide both basic fair housing training and customized curriculum.
Email Us Now